Guided trail rides in North Harrison County Ms
UPDATE! Price increase due to rising cost of fuel, feed and hay. The price increase will start September 1, 2022.
We are now taking reservations for our guided trial rides!
Hello and welcome to our guided trail riding site. We offer guided tour rides on 834 acres of beautiful forest land on Herman Ladner Road in North Harrison County Saucier, Ms. The rides are scheduled on the weekends by appointment only. We offer an one hour ride late in the afternoon until the weather cools off. Helmets are optional and you are welcome to bring your own. Give us a call and schedule your horse ride experience with us today. Making priceless memories with your family that will last a lifetime.
May God Bless you all and keep you safe!
Price $50.00 per hour for the horse ride (effective 9-1-22)
New Email: horserideforfun2017@gmail.com
We are located in North Harrison County on Herman Ladner Road. We have secured a lease of 834 acres in a beautiful pine forest. The area is located in the middle of a beautiful pine forest full of an abundance wild life. We are located within 15 miles North West of Gulfport and 1.5 miles off Hwy 53. We offer guided trail rides on 834 acres with our trained and friendly horses. If you are looking for a relaxing and fun weekend of beautiful scenery and well trained horses, then give us a call and reserve your seat in the saddle. There are many different types of wild life that live in this area, so you may get to see them living in their own habitat. ALL AGES ARE WELCOME, but we do have a weight limit of 250 lbs. Whether you are an experienced rider or a first time rider, we offer safe and friendly equine instructions on horseback riding. Our horses are trained and easy to ride. We want you to feel relaxed and comfortable and have a great equine time. Once you experience the time behind the ears, you will see the Countryside with a different view.
Right now we are not offering the Amish Buggy or wagon services. Our beloved Rusty Thompson passed away September 17, 2021. We are continuing our rides in his honor, because that's what he would have wanted. We love and miss him dearly. But he will always be riding and watching over us. ❤️
Come on out to the Country and enjoy the beautiful scenery. RSVP your time today and come make priceless memories to share with your family. Enjoy nature by horseback. See you in a bit......
Time behind the ears!?
Rest in Peace Oakley "Rusty" Thompson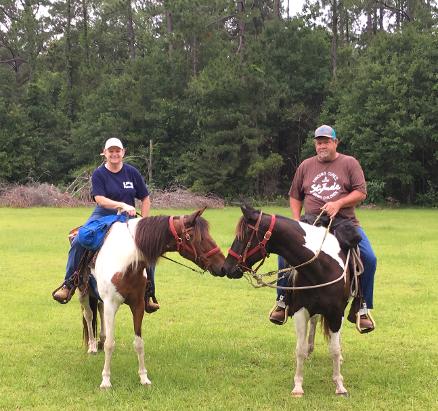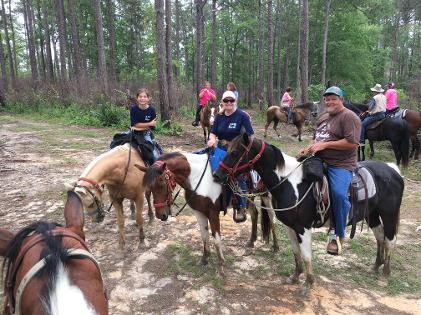 Visit us at:
Horserideforfun.com
Robyn L. Ladner
Check us out on Facebook under Horserideforfun.com and other social media sites.
23454 Herman Ladner Road Saucier, Ms. 39574
1-228-669-4956
Email address:
horserideforfun2017@gmail.com
Copyright Horserideforfun.com