Guided trail rides in North Harrison County Ms
Update! We will resume our guided trail rides on June 6, 2020. Call to reserve your spot in the saddle today. We take all safety precautions possible to keep every one safe.
Updates!
Price change to $40.00 per hour for the horse ride
Hay ride scheduled for the last two weekends of October Friday and Saturday nights 6-10 pm
$10.00 for hay rides no reservations needed
We are located in North Harrison County on Herman Ladner Road. We have secured a lease of 834 acres in a beautiful pine forest. The area is located in the middle of a beautiful pine forest full of an abundance wild life. We are located within 15 miles North West of Gulfport and 1.5 miles off Hwy 53.
We offer guided trail rides on 834 acres with our trained and friendly horses. If you are looking for a relaxing and fun weekend of beautiful scenery and well trained horses, then give us a call and reserve your seat in the saddle. There are many different types of wild life that live in this area, so you may get to see them living in their own habitat.
All ages are welcome
Whether you are an experienced rider or a first time rider, we offer safe and friendly equine instructions on horseback riding. Our horses are trained and easy to ride. We want you to feel relaxed and comfortable and have a great equine time. Once you experience the time behind the ears, you will see the Countryside with a different view.
New Addition to our guided tours We now will be offering wagon rides, so reserve your wagon ride today!
Along with the wagon rides we will also be offering our Amish buggy for weddings.
Come on out to the Country and enjoy the beautiful scenery. RSVP your time today and come make priceless memories to share with your family. Enjoy nature by horseback. See you in a bit......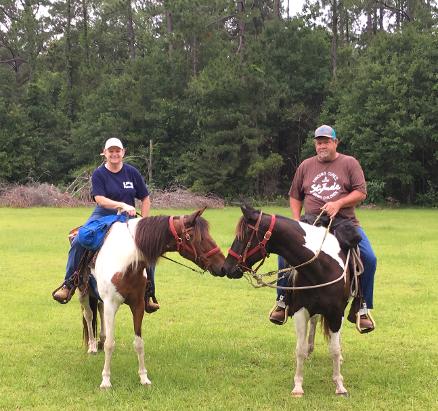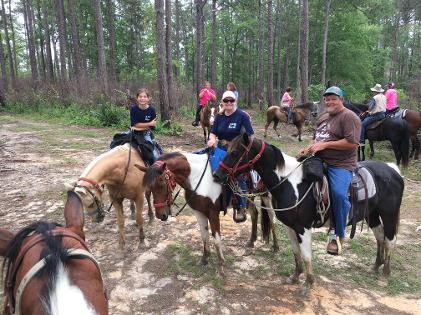 Visit us at:
Horserideforfun.com
Robyn L. Ladner and Rusty Thompson
Check us out on Facebook under Horserideforfun.com
23454 Herman Ladner Road
Saucier, Ms. 39574
1-228-669-4956
1-228-382-2380
Copyright Horserideforfun.com